ContentProvider Examples
This is a ContentProvider tutorial. Through various examples you will learn how to use contentprovider to load data from an android device. ContentProvider is one of android's fundamental components, alongside activity, service, application and broadcastreceiver. As such it is important for your android development journey.
What is a ContentProvider?
A content provider manages access to a central repository of data. A provider is part of an Android application, which often provides its own UI for working with the data.
However, content providers are primarily intended to be used by other applications, which access the provider using a provider client object. Together, providers and provider clients offer a consistent, standard interface to data that also handles inter-process communication and secure data access.
Typically you work with content providers in one of two scenarios; you may want to implement code to access an existing content provider in another application, or you may want to create a new content provider in your application to share data with other applications. This topic covers the basics of working with existing content providers.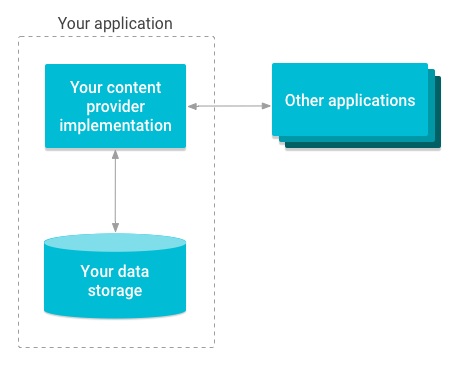 Example 1 - How to Load Contacts from the device.
This example examines how to use content provider to load contacts from any android device.
Step 1: Dependencies
No third party dependency is needed.
Step 2: Add Permissions
To read contacts from a user's device, you need permission from the user. Thus you need to add the READ_CONTACTS permission which will be shown to the user when the user is installing your app.
Step 3: Design UI
The UI will comprise a button a listview. The user presses the button and contacts are fetched and loaded onto the listview.
activity_main.xml
Step 3: Write Code
The code is in java but can be converted to kotlin.
MainActivity.java
Add imports including the LoaderManager and cursorLoader:
Extend the appcompactivity and implement several interfaces including the LoaderManager.LoaderCallbacks<Cursor>:
Declare our UI widgets as well as projection:
Here's the rest of the code:
Reference
Example 2: ## Kotlin Android ContentProviders, Room MVVM Example
In this tutorial you will learn how to implement your own ContentProvider to access data from a Room Database via the MVVM design pattern.
Step 1: Create Project
Start by creating an empty Android Studio project.
Step 2: Dependencies
In your app/build.gradle addd the following dependencies:
Step : Create Model class
Villains.kt
Step : Create Dao Interface
VillainsDao.kt
Step : Create Room Database
VillainsDatabase.kt
Step : Create a ContentProvider
VillainProvider.kt
Step : Create RecyclerView Adapter
VillainAdapter.kt
Step : Create MainActivity
MainActivity.kt
Run
Copy the code or download it in the link below, build and run.
Reference
Here are the reference links: